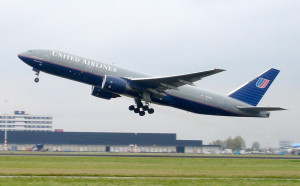 I closely follow personal injury litigation news, and sometimes see stories of antitrust, employment and consumer fraud lawsuits. As a frequent airline traveler and student pilot, I'm always interested to read stories involving airplanes, airlines and the business of aviation.
So when I saw a headlines about Scott Coulier's lawsuit against United Airlines, I was interested. Here's the scoop:
Scott Coulier, of Peoria County, Illinois says he bought three one-way tickets to Orlando International Airport on January 27, 2014, for travel in March 2014. He paid $182 each for the tickets. He filed suit, because he believes he could have purchased the same tickets from United.com if he bought them separately instead of together.  I have no idea why he bought three one-way tickets instead of round-trip, but I assume he had a good reason.
United Airlines has a policy that gives travelers incentive to search for the best deal. According to the lawsuit, If a ticketholder finds a ticket for the "same flight, itinerary and cabin at a price lower that the fare offered on united.com by $10 or more, we'll make up the difference and give you a $100 USD Electronic Travel Certificate." Coulier alleges in the suit, that despite their Low Fare Guarantee, United does not provide consumers purchasing airline tickets the lowest available fares when multiple tickets are purchased at the same time for passengers traveling on the same flight. This happens allegedly, because United doesn't deplete "tickets that are available for the same flights in lower fare classes first and only charging the consumer for the limited and necessary number of remaining fares at higher fare classes."
The case is Scott Coulier v. United Airlines Inc., case number 4:15-cv-00190, in the U.S. District Court for the Southern District of Texas. It was filed Wednesday, January 21st. Coulier is the only named plaintiff, but it potentially opens up a case for others who bought two or more airline tickets from united.com in a single transaction during the class period. In this case, the class period dates back four years ago.  The suit seeks undisclosed damages and to prohibit the airline from repeating the incident.
If the tickets were $182 each and he overpaid, I am really curious how much the single tickets cost. If he could have saved $150 ($50 on each ticket), is it really worth filing a lawsuit? Are other United travelers going to come forward? Will have to keep an eye on this one.
On a sidenote, I learned that American Airlines, my usual airline, also has a low fare guarantee.  Going to have to check and see on my next paid flight. They're tricky though… you have to catch it by midnight on the day you make your purchase. Here is the fine print: " If you find the exact same flight and itinerary for at least $5 less on another website on the same day you made your purchase and make your claim by midnight of the same calendar day, we will refund the difference in fare and give you a $50 promotion code for a future flight purchase."