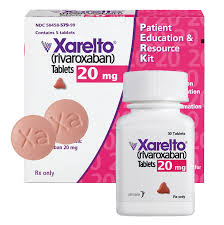 We've been watching Xarelto lawsuits work their way through the legal system since the FDA first issued that warning letter to Johnson & Johnson back in June 2013. It was predicted that lawsuits would continue to be filed, and that's just what's happened. One of the legal blogs I follow, Lawyers and Settlements, reported this week that the MDL has more than 2,200 consolidated cases. That's a lot more than 11 months ago, when about two dozen lawsuits were first consolidated back in December 2014.
Xarelto, generically known as rivaroxaban, was first approved by the FDA as an anticoagulant or "blood thinner" back in July 2011. In November 2011, the FDA approved it to reduce stroke risk in people with atrial fibrillation. In November 2012, the FDA approved Xarelto for deep vein thrombosis.
Xarelto is different than Coumadin / warfarin, the blood thinner that's been on the market for decades. Unlike  Coumadin, patients taking Xarelto do not need to undergo routine blood tests. However, there is no antidote for Xarelto. With Coumadin, if a bleeding event occurs, a patient can be treated with Vitamin K, and usually the bleeding can be stopped. In a patient treated with Xarelto, a bleeding event is potentially life-threatening.  Bayer, the manufacturer of Xarelto, is working on an antidote. The first Xarelto-related death was reported to the FDA in November 2011.
The thousands of lawsuits that have been filed allege that patients were not warned that there was no antidote to Xarelto, One of the more recent lawsuitd was filed by Ashlie Fluitt, whose grandmother, Hattie Deville Goodwin, was prescribed Xarelto in September 2014 for her deep vein thrombosis. Two months after she began taking Xarelto, Deville-Goodwin experienced an intracranial bleed, which was irreversible and fatal. She passed away on November 14, 2014.
The first bellwether Xarelto cases will likely go to trial early in 2017. From the thousands of cases now in the MDL – and those projected to have come forward by the start of the New Year – 40 cases will be shortlisted. Plaintiffs and defendants will choose 10 cases each, with another 20 cases chosen at random. If you've experienced a bleeding event while taking this drug, you should contact a Xarelto lawyer – as soon as possible.