Archive of the tags:
xarelto lawsuit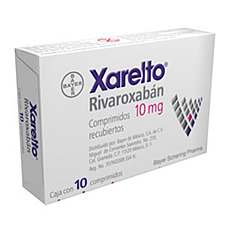 Back in January, I blogged about the status of Xarelto lawsuits, a legal matter I've been closely following since the FDA first issued a warning letter to Johnson & Johnson back in June 2013. In that post, I mentioned that we would likely be seeing news of more lawsuits being filed as the MDL moves along. On March 20th, another case was filed in CA, on behalf of 12 Xarelto patients who allegedly suffered either gastrointestinal or rectal bleeding as a result. Some of them were hospitalized, including one man who had a stroke.
Xarelto, of course, is an anticoagulant, a drug better known as a "blood thinner". Xarelto has only been on the market since July 2011, when it was first approved by the FDA.
The drug was initially approved to prevent blood clots in patients undergoing hip replacement or knee replacement surgery. The FDA later approved it in November 2011 to reduce stroke risk in people with atrial fibrillation. In November 2012, the FDA approved Xarelto to treat deep vein thrombosis and pulmonary embolism.
For many decades and until a few years ago, the "gold standard" blood thinner was Coumadin (aka warfarin). The downside of warfarin is that patients have to do rigorous and ongoing blood testing to see how long it takes your blood to clot and to make sure you are taking the right dose. Patients taking Xarelto do not need to undergo routine blood tests. The most recent lawsuit filed in CA federal court alleges that Johnson & Johnson was misguided when alleging that testing was unnecessary.
Bleeding events can occur with both Coumadin and Xarelto. When patients are taking Coumadin, doctors can give patients Vitamin K, which swiftly counteracts the thinning properties and essentially stops the bleeding. There is no antidote for Xarelto patients. Bleeding in a Xarelto patient can be life-threatening and fatal.
Back in December, about two dozen lawsuits were consolidated into Multidistrict Litigation in federal court in Louisiana. In Jaunary, a new mass tort was created in the Philadelphia County Court of Common Pleas. The California Xarelto lawsuit suit is Walker et al v. Janssen Research & Development LLC et al, Case No. 2:15-vc-01971, in the US District Court for the Central District of California.