Archive of the categories:
San Bernardino City Shelter
We have the cutest chihuahua for adoption through Upward Dog Rescue. Actually, we've got a few cute Chihuahuas right now. But I wanted to share our new guy Denver! I came up with the name driving back from the shelter, flipping through the radio stations. Having named so many dogs, I am always searching for good names. The radio is a good source of inspiration. No, I am not a Denver Broncos fan. I love my Chargers! But, there was a John Denver song on the radio, and the name seemed to fit! Here are some photos, and the bio we put up on his Facebook photo album and his Petfinder profile 🙂
Meet DENVER!! This is not your average run-of-the mill tan Chihuahua mix, this is an 8-pound BFF (Best Friend Forever.) Denver also happened to be the most urgent dog at the San Bernardino City Shelter when we rescued him, which makes him extra-special. And he might even have some dachshund in him! Denver is about 2 years old, neutered, vaccinated and AVID microchipped. He is housebroken, and gets along well with adults, kids, and other dogs. His bow ties and glasses are not included, but his foster mom will tell you what app she used J. His adoption donation is just $75, apply at http://www.upwarddogrescue.org/adoption-application. Denver is fostered in San Marcos (San Diego County, CA). Thank you for choosing to rescue your next best friend!!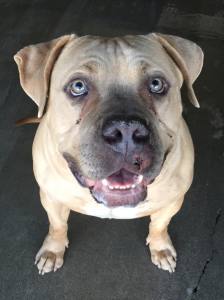 I've rescued a lot of amazing and wonderful dogs since I started my rescue journey in 2011, but the pit bull we rescued yesterday is extra-special. Kind of like prisoners, dogs at the shelter are assigned impound numbers and Hank's was A475552. We know nothing about his history, other than he came into the shelter as an unneutered, not microchipped dog. He has a chipped canine tooth and is about 3 years old.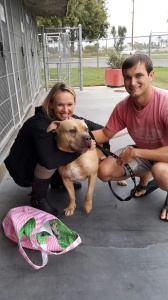 We first met Hank last Saturday when we were at the shelter to rescue some other pups. It was obvious immediately that he was just a big, goofy, huggie bear wiggle butt, who hasn't missed a meal, ever. Thanks to the shelter's foster policy, because of his injury, we were able to rescue him from the shelter a day early and we got him out just before closing last night.
We stopped at Carls Jr. in Perris on the drive back to Carlsbad, and it seemed obvious that Hank knew exactly what fast food is. He is at our vet Mohnacky Animal Hospital for neuter surgery today. In mid-December, he will be going to live permanently in Virginia. More pictures are in Hank's photo album on Facebook.