Archive of the categories:
Favorite Things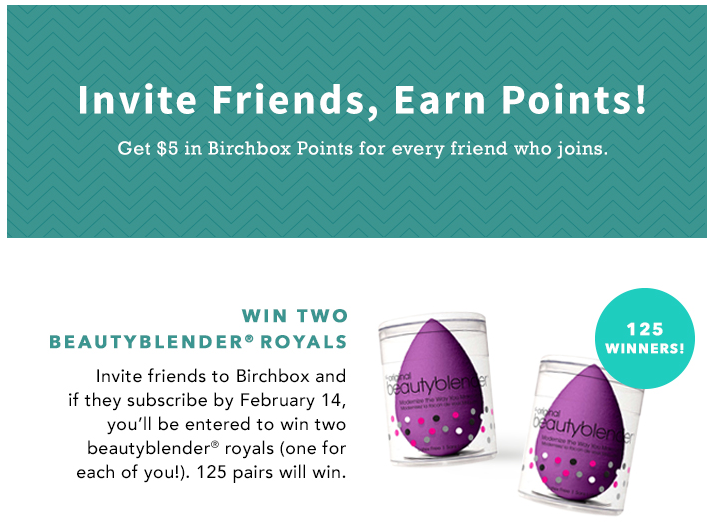 I have been a loyal Birchbox subscriber for many years because it is awesome! My makeup bag is filled with goodies that are great – that I otherwise wouldn't think to buy or try. If you're not subscribing, you're missing out. Here is your chance! Birchbox is having a promotion, if you join and subscribe by February 14th, we will both be entered to win a beautyblender royals blender sponge.  So cool! Just use this link to subscribe and you can thank me later! 🙂 Happy Tuesday!
I love watching the Bachelor on Monday night, and I especially love some of the great quotes that come from these smart, beautiful women. You can't make some of this stuff up! This week was no disappointment, it picked up right where the drama left off last week. Olivia Caridi is a news anchor / reporter, and when Bachelor Ben Higgins pulls her aside, she tells Ben she wants to talk smart things. Then they all head to Exuma Island of the Bahamas, where Ben takes Caila deep sea fishing. If you are a fan of the Bachelor, check out my friend Andrea's Bachelor Recaps, every Tuesday over on http://andrealebeau.blogspot.com.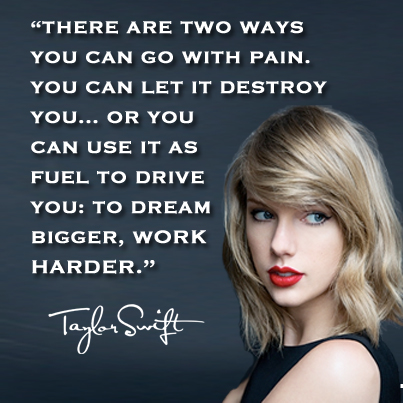 I am a longtime Taylor Swift fan. I admire her confidence, talent and wisdom. This quote about pain is one of my favorite quotes from her. I am not sure when she said it, but it is widely attributed to her. It is a reminder to all of us that when bad things happen, there is always a choice.
I had a flying lesson this morning, this time in N172LK, and we did another hour of simulated instrument training. Winds were calm, visibility great, and I did an Alpha North departure out of CRQ and my instructor John and I flew 68 miles up to Long Beach. I wore "foggles" so I couldn't see what was going on outside, and flew the plane just based on instruments.  I found the Torrance airport on the GPS and then flew in the direction it told me to go, maintaining altitude at 2,500 feet the whole way. I did better this time, than on my last instrument training flight down to Coronado. Today was fun, I got a flying lesson and a history lesson too, and they both sort of involved Leonardo Dicaprio movies. Maybe I'm stretching a little bit.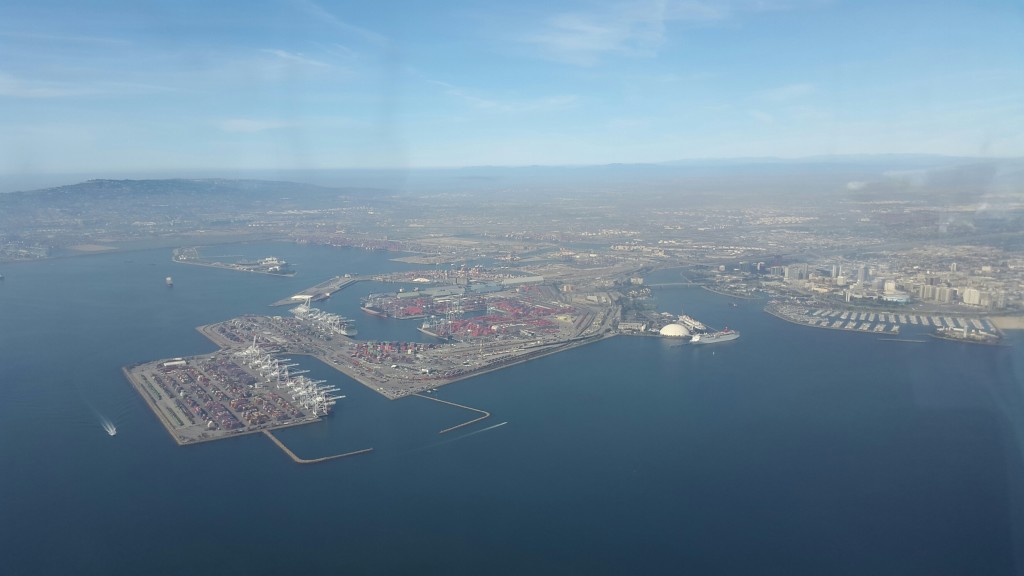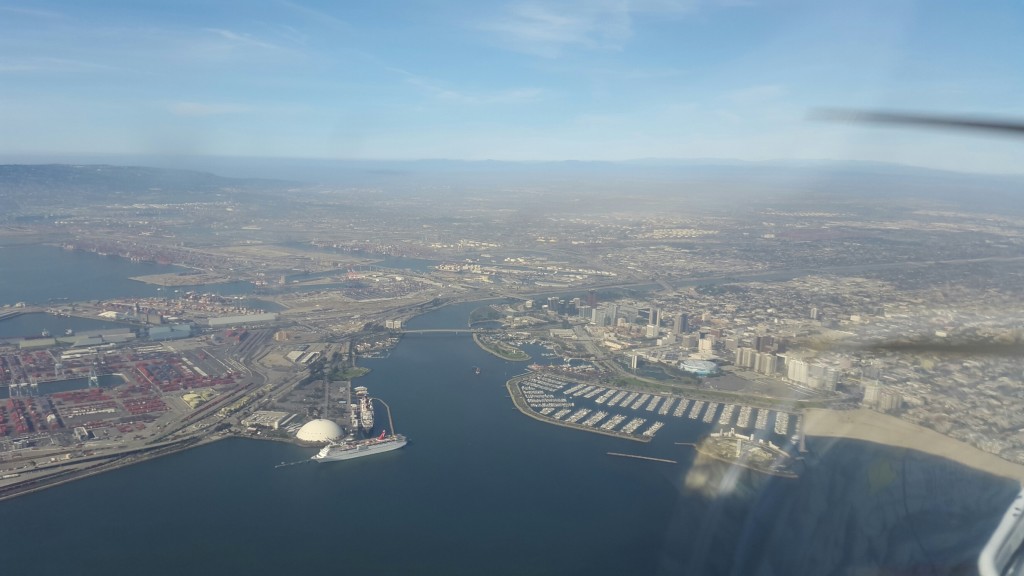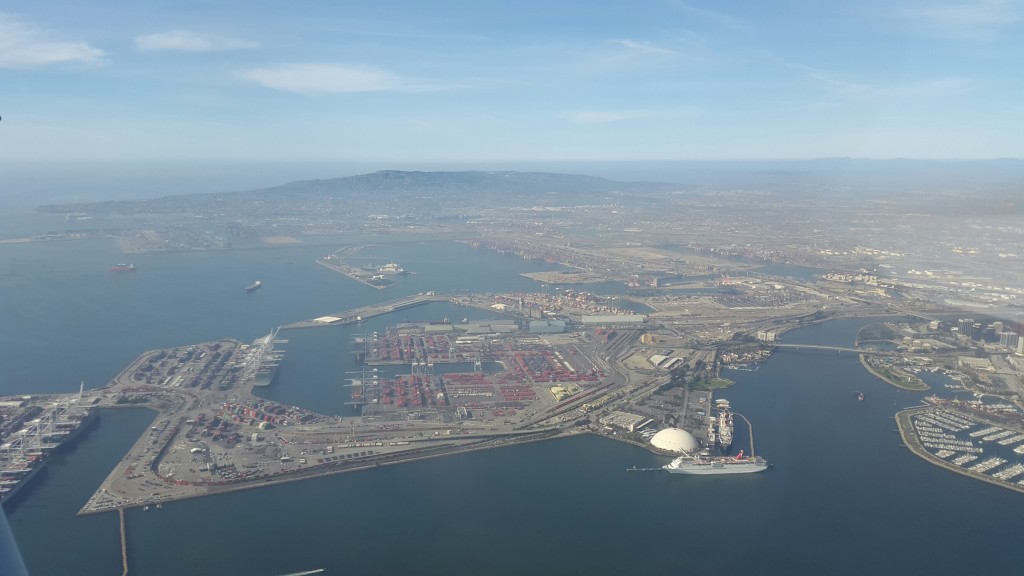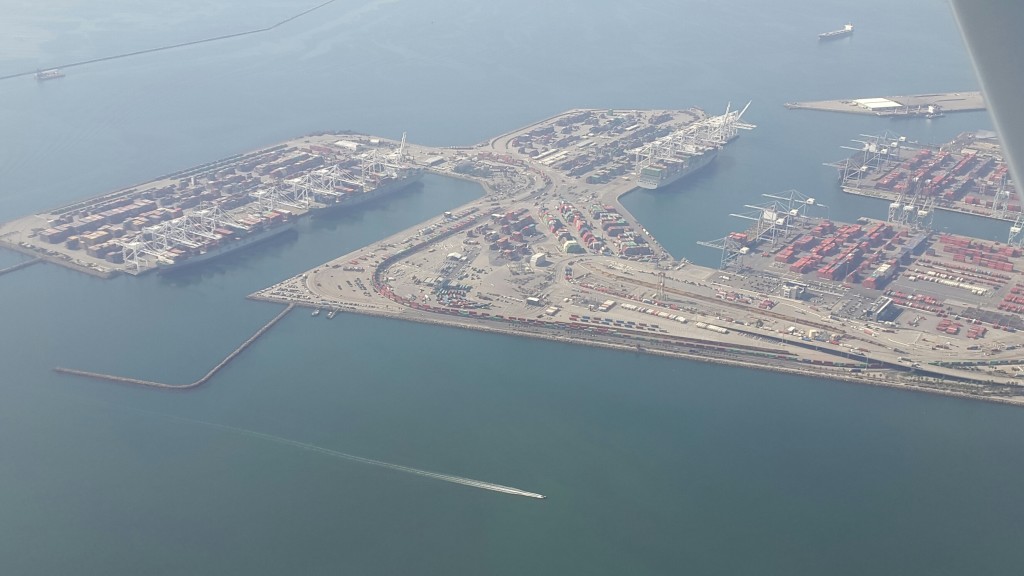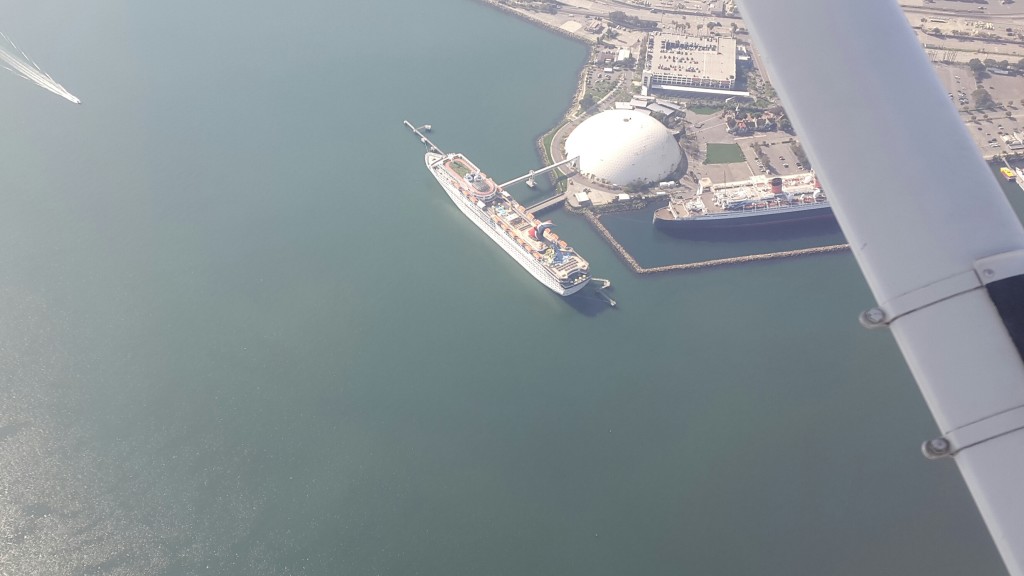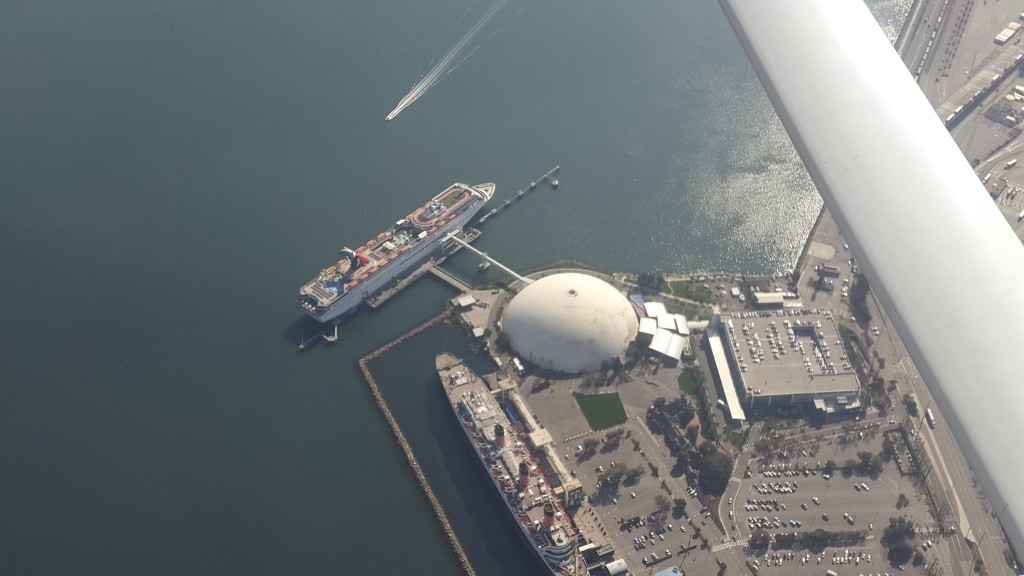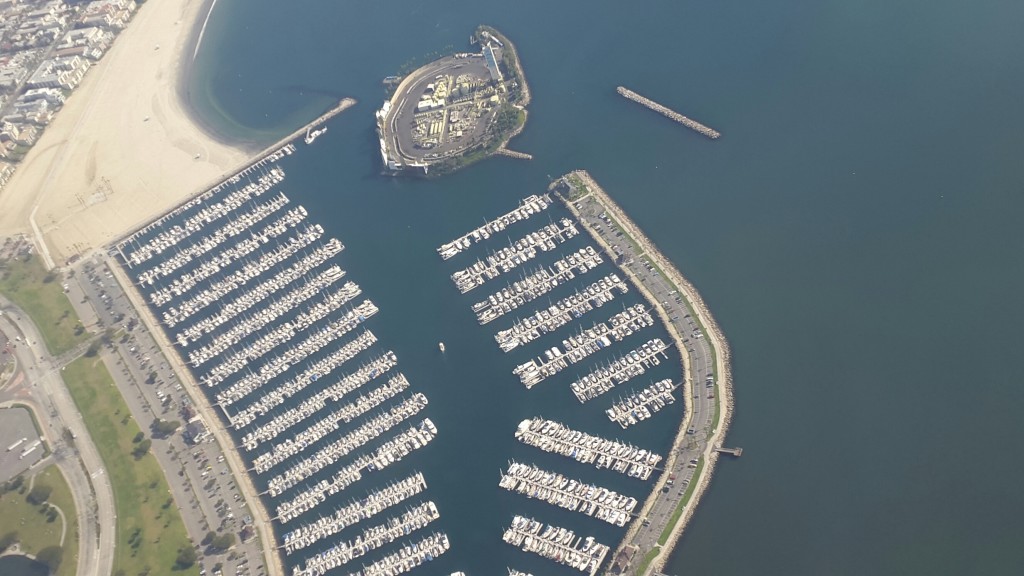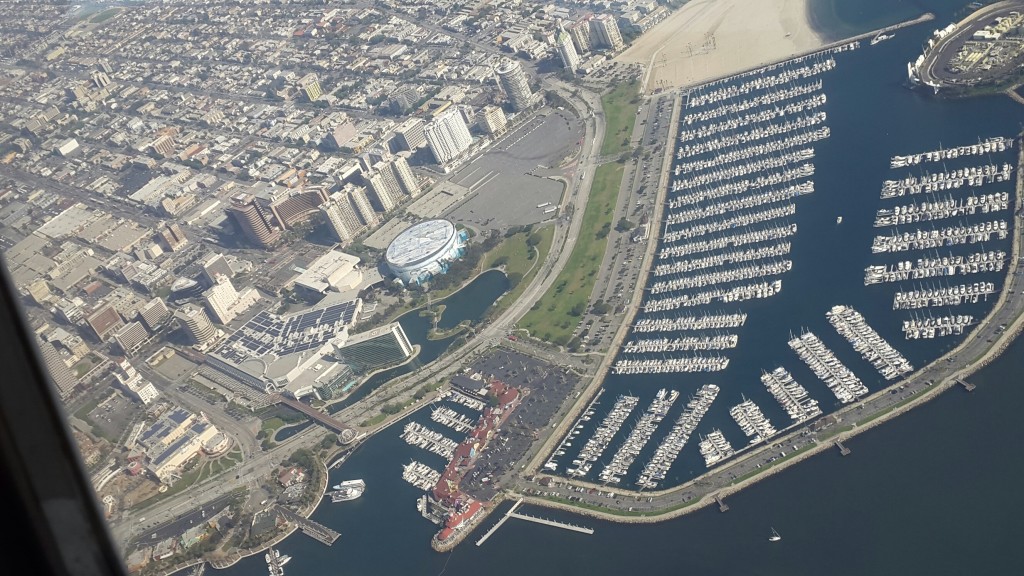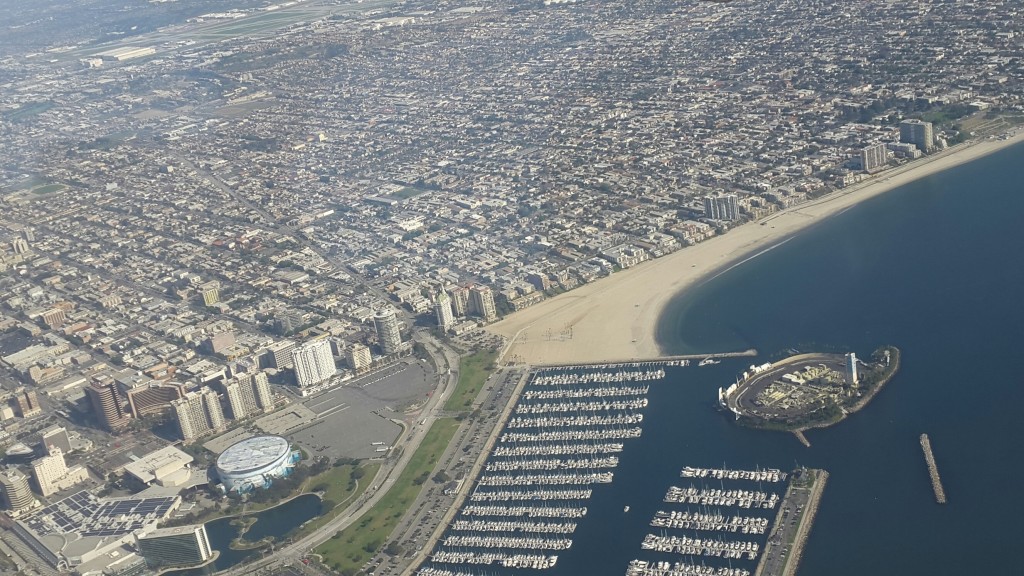 We entered the port and flew over to where the Queen Mary was. That's the ocean liner next to the white golf ball looking thing. It is very similar in design and appearance to the RMS Titanic. The movie Titanic was not filmed on the Queen Mary, but the Queen Mary has been the location of several Titanic conventions. After flying over it,  and then reading up about it, I definitely want to drive Caroline and Ava up there for a day trip one day and check it out.
The white golf ball looking thing – the dome – used to be a hangar for the Spruce Goose, which was Howard Hughes' giant boat airplane – the largest airplane ever built. The Spruce Goose only flew once, on November 2, 1947. So much history though – it's fascinating! I saw the Aviator back when it was in theatres in 2004, but at the time I didn't really know who Howard Hughes was, and I wasn't interested in aviation too much then either. I definitely need to watch that movie again. One of these days I will.
The flight back went smoothly – it was interesting hearing the So Cal Approach radio – it was very very busy, and almost constant chatter. When we came back to land, I kept my foggles on until we were just 2 miles from the CRQ runway. There was a lot of traffic coming and going, and in the downwind leg the ATC had me do a left 360 turn three times, and then extend my base about 5 miles down. Somehow I managed to stay high, and had to sideslip the plane to get us down to the runway. The landing wasn't too bad, and the lesson ended on a good note. I'm only a few more lessons away from my pre solo stage check with David.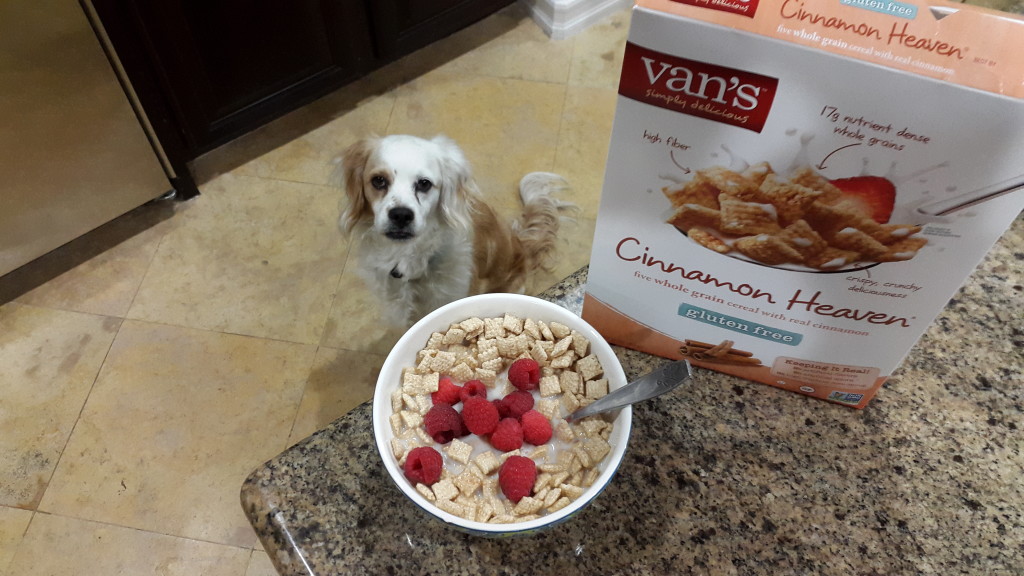 I don't have cereal for breakfast. If I'm making breakfast for Ava, I usually make pancakes (see previous post about the best pancake mix in the world). If it's just me and I'm not cooking for a toddler, usually I have an egg over medium, or a flatbread breakfast sandwich. Or sometimes just a spinach and banana smoothie, mixed up in my Magic Bullet with a bit of almond milk.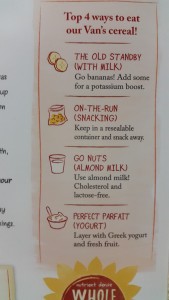 I love to cook all sorts of things for dinner, especially savory Italian dishes like baked ziti and lasagna. But dinner looks very different if it's just me. When I don't have someone to cook dinner for, I usually make lunch the largest meal of the day and then just have something small for dinner, like cereal, or maybe an Easy Mac cup. I know, not necessarily the healthiest but at least low enough on calories. I love Macaroni and Cheese!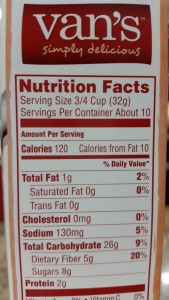 Cereal is one of my favorite low-cal go-to options for dinner alone. I should note that I'm never really alone since I'm always surrounded by dogs. I recently discovered a new awesome cereal at Sprouts. It's called Cinnamon Heaven, and it is made by Van's Natural Foods, a Vernon-based company that you may known for their yummy organic frozen waffles. You can also buy it on Amazon, and yes it is worth buying 6 boxes! Van's Cinnamon Heaven cereal is gluten free and vegan (free of meat, fish, seafood, eggs, dairy and honey). Unlike a lot of cereals, there are no synthetic preservatives, artificial flavors or artificial colors. I have it with unsweetened Almond Milk (30 calories per serving), and sprinkle on some organic raspberries.
If you have a favorite cereal, share in the comments below!
I consistently make pancakes for Ava in the mornings, at least several times a week. It doesn't take long to make them, but I love those 10-15 minutes that I take to make her a healthy and yummy breakfast. I put her in her high chair, turn on the stovetop to medium heat, and get out everything I need. Usually I listen to music on my Sonos, or watch the Today Show, and have either coffee from my Keurig or an energy drink.
I am a loyal fan of Stonewall Kitchen Farmhouse pancake mix. I first discovered it long before Ava in 2012, when I took a crepes class at Sur La Table in Carlsbad. One of the students asked the instructor if she recommended a particular pancake recipe, and I remember the instructor immediately saying she recommended Stonewall Kitchen, that it was "better than scratch." I remember her also emphasizing the importance of using real butter and whole milk (or buttermilk). No nonfat milk or margarine. Intrigued and curious, I bought the mix that day. She also recommended a slotted fish spatula, which I also bought and absolutely love. I use it all the time, not just for pancakes, but for everything.
In my quest for pancake perfection I've tried a lot of a lot of pancake mixes, from fancy stuff like Archer Farms Red Velvet Pancake Mix to Aunt Jemima. and one thing I really like about the Stonewall Kitchen is that it uses actual ingredients, like eggs, milk, and butter. If you get one of those mixes that you "just add water" it tastes like you just added water, in my opinion. By now I have the Stonewall Kitchen recipe memorized. I use one cup of mix, ¾ cup milk, one tablespoon melted butter, and one egg. I whip it up with a fork, and pour it on my griddle. Once bubbles start to form, I flip them over with my fish spatula and they come out perfect, pretty much every time. I love them, Ava loves them, and if there are extra, the dogs love them too.
To make things even easier, I use subscribe and save on Amazon so my products are delivered monthly, with free shipping. I don't even have to think about it, they just show up. Do you have a favorite pancake recipe? I'd love to hear about it if you do!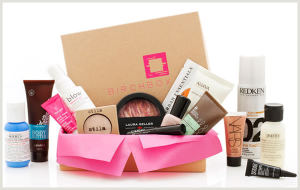 When I like something, I tend to keep buying it, over and over and over. Because I am so busy with work, being a mom, learning to fly, and rescuing dogs, automation is the only way to organize my life. Every possible bill goes on autopay, and I even prepay for a year of cell phone service so I don't have a bill to pay every month. Amazon prime delivers my favorite Stonewall Kitchen Pancake Mix every month (seriously, it's better than scratch). And Ava and I are addicted to our favorite Amy's Kitchen Pesto Tortellini, which is always in our freezer. If we like something, we are loyal.
Another thing I've come to be addicted to is Birchbox. I got on the Birchbox train earlier than most people, in fall of 2011, and have been a loyal subscriber every month. It is one monthly indulgence I don't give up. When I move, I update my Birchbox subscription before I change my postal mail address. If you haven't heard of Birchbox, it is a subscription beauty box. Think of it as a little bit of happiness every month, delivered straight to your door. Every month is a little different, and I've gotten everything from Stila lip gloss and Essie nail polish to Smashbox mascara and Toni & Guy hair spray. Sometimes you get a yummy treat or even a "lifestyle" sample like a note card or coaster. Everything is high quality and fun. I love opening up my box each month when it arrives.
Monthly subscription boxes are very popular these days, and some pretty unusual ones have popped up. For a taste of options, check out the dive bar tee shirt club (exactly what you think). Fairtreasure.com (think fair trade jewelry, décor and accessories) or BarkBox (for dog toys and treats every month).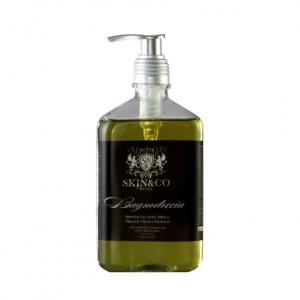 One of the reasons I am so loyal to Birchbox is Birchbox is so loyal to me. Customers earn points for every dollar they spend, not just on their subscription but also on products they purchase. My one experience with a damaged product was handled quickly and professionally – I ordered some Skin&Co Detoxifying Body Gel with Organic Rosemary & Verbena Extract that leaked through the box. I sent them a message and they replaced the product immediately and credited additional points to my account. I love to give Birchbox subscriptions as a gift because it is unique and fun – who doesn't love goodies in their mailbox? And when I gift Birchbox, I get rewarded with points I can spend in their online store.
Birchbox also rewards you if you refer friends. For every friend that joins Birchbox, they give you 50 Birchbox points after they purchase their subscription. Ready to check it out? Here's your official invitation.