Archive of the categories:
Legal Marketing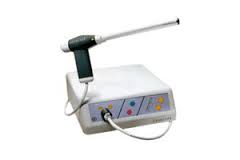 The US Government Accountability Office announced yesterday it would be investigating the use of laparoscopic power morcellators, at the request of 12 members of congress, who cited the deaths of "hundreds, if not thousands of women in America" who have died from uterine cancer or other gynecological cancer.
Back in November of 2014, the FDA issued a black box warning to ensure physicians and their patients know about the risks of power morcellators. If you are unfamiliar, power morcellation is used in a non-invasive hysterectomy or myomectomy surgeries.  In a laparoscopic hysterectomy surgery, the uterus is minced up, (morcellated), into smaller pieces inside the woman's belly cavity in order to be extracted from the abdomen. It can consist of a hollow cylinder that penetrates the abdominal wall, ending with sharp edges or cutting jaws, through which a grasper can be inserted to pull the mass into the cylinder to cut out an extractable piece.
But was the less invasive surgery really worth the risk? The advantage of using a morcellator device is of course, a smaller incision and quicker recovery. However, if the woman has undetected cancer such as uterine sarcoma, the breaking up of tissue can increase the risk of cancerous tissue being spread throughout the woman's abdomen and pelvis. And this has happened a lot. Read much more on fredhutch.org. There have been dozens of reported incidents, and so far about 45 lawsuits have been filed in federal or state court.  The US Judicial Panel on Multidistrict Litigation has consolidated more than 20 lawsuits into an MDL (number 2652) which was approved in October.  Fortunately, the use of morcellators has largely been abandoned.
The companies being sued in power morcellation lawsuits include Johnson & Johnson, which makes the Ethicon Gynecare Morcellex Tissue Morcellator.
A lot of times in child abuse and molestation cases, people contact a lawyer without really knowing what kind of lawyer they need, or really what their goal is. In the United States, there are two types of law: Civil and Criminal. They are very different systems of justice, and if you have been harmed, it is important to understand them. The criminal justice system seeks to punish a perpetrator, usually by jail or prison time, but possibly also by probation or community service. A civil lawsuit is much different. It seeks to recover monetary compensation for the victim. Criminal cases are filed by the government, and usually start when the victim reports the crime (calling 911 or filing a police report). Civil cases are filed by a private party, typically by their attorney. Estey Bomberger has made an infographic explaining the core differences between these two types of law. It is below. For more information, visit http://www.childmolestationvictims.com/.

The Differences Between Civil and Criminal Law – A resource by the team at ChildMolestationVictim.com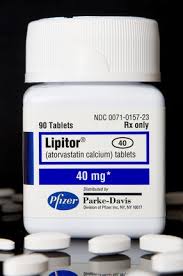 Pretrial proceedings are underway for Lipitor lawsuits. In case you're not familiar, Lipitor is a statin drug, once the best selling drug in the world. Until it's patent expired in 2011, it was responsible for one-fifth of Pfizer's revenue. It works by blocking the fatty LDL cholesterol in the blood stream, and protecting from heart disease and stroke.
The problem with the drug is it causes diabetes, particularly in women. A 2012 study found that women who took Lipitor (and other similar statin drugs) were 50% more likely to develop diabetes compared to women who didn't take any statins. After the study, the FDA ordered Pfizer to add warning labels to the box. But, the lawsuits claim that Pfizer knew about the link to diabetes long before the FDA ever made them slap a label on the drugs. And that's what the Lipitor diabetes lawsuits are all about.
The cases have been consolidated for pretrial proceeds as an MDL (multi-district litigation), which has been centralized before U.S. District Judge Richard Gergel in the District of South Carolina. Consolidating these cases makes it easier on everyone, it avoids pretrial rulings that may conflict, and makes it easier for all of the parties involved, not just plaintiffs and defendants, but their experts and the courts.
In September 2014, Judge Gergel ndicated that the first bellwether trial will begin in October 2015. At that point, there were more than 1,250 lawsuits pending against Pfizer, all alleging that the drug caused diabetes. According to the case list for a January 22nd status conference, Lipitor lawsuit complaints rose from 1,478 as of December 15, to 1,604 as of January 15.
A "bellwether" trial will go forward in October 2015. Judge Gergel will select this case from a current pool of 12 "initial discovery" cases reduced to a group of six, with each side identifying three cases that will be eligible for the first trial. The judge would then randomly select one of the remaining gasses to go forward as the first trial. The outcome of bellwether trials are not binding on other lawsuits, but they are always closely monitored by lawyers involved in the mass tort litigation, and they may influence future settlement offers and negotiations.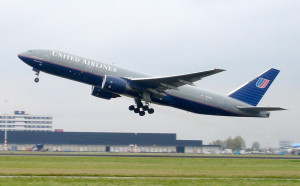 I closely follow personal injury litigation news, and sometimes see stories of antitrust, employment and consumer fraud lawsuits. As a frequent airline traveler and student pilot, I'm always interested to read stories involving airplanes, airlines and the business of aviation.
So when I saw a headlines about Scott Coulier's lawsuit against United Airlines, I was interested. Here's the scoop:
Scott Coulier, of Peoria County, Illinois says he bought three one-way tickets to Orlando International Airport on January 27, 2014, for travel in March 2014. He paid $182 each for the tickets. He filed suit, because he believes he could have purchased the same tickets from United.com if he bought them separately instead of together.  I have no idea why he bought three one-way tickets instead of round-trip, but I assume he had a good reason.
United Airlines has a policy that gives travelers incentive to search for the best deal. According to the lawsuit, If a ticketholder finds a ticket for the "same flight, itinerary and cabin at a price lower that the fare offered on united.com by $10 or more, we'll make up the difference and give you a $100 USD Electronic Travel Certificate." Coulier alleges in the suit, that despite their Low Fare Guarantee, United does not provide consumers purchasing airline tickets the lowest available fares when multiple tickets are purchased at the same time for passengers traveling on the same flight. This happens allegedly, because United doesn't deplete "tickets that are available for the same flights in lower fare classes first and only charging the consumer for the limited and necessary number of remaining fares at higher fare classes."
The case is Scott Coulier v. United Airlines Inc., case number 4:15-cv-00190, in the U.S. District Court for the Southern District of Texas. It was filed Wednesday, January 21st. Coulier is the only named plaintiff, but it potentially opens up a case for others who bought two or more airline tickets from united.com in a single transaction during the class period. In this case, the class period dates back four years ago.  The suit seeks undisclosed damages and to prohibit the airline from repeating the incident.
If the tickets were $182 each and he overpaid, I am really curious how much the single tickets cost. If he could have saved $150 ($50 on each ticket), is it really worth filing a lawsuit? Are other United travelers going to come forward? Will have to keep an eye on this one.
On a sidenote, I learned that American Airlines, my usual airline, also has a low fare guarantee.  Going to have to check and see on my next paid flight. They're tricky though… you have to catch it by midnight on the day you make your purchase. Here is the fine print: " If you find the exact same flight and itinerary for at least $5 less on another website on the same day you made your purchase and make your claim by midnight of the same calendar day, we will refund the difference in fare and give you a $50 promotion code for a future flight purchase."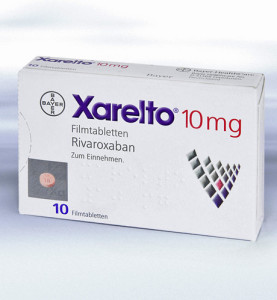 Being in legal marketing I keep close tabs on dangerous drugs. I've been closely following Xarelto problems since the FDA first issued a warning letter to Johnson & Johnson about their aggressive marketing and advertising campaign in June 2013.
If you haven't heard of Xarelto, it is an anticoagulant – a class of drugs that prevent blood clots. Typically, anticoagulants are prescribed to people who are at high risk of stroke or heart attack, or who have recently undergone surgery. The major side effect of Xarelto and other anti-clotting drugs is bleeding. With the growing population of baby boomers, more and more people are going to need blood thinners to prevent blood clots and strokes.
For many decades, Coumadin (warfarin) was the blood thinner of choice. It is an effective drug, however, patients are required to adhere to strict monitoring and diet limitations. However, Xarelto, and cousin drugs Pradaxa and Eliquis, do not need strict monitoring, and there is no need to watch what you eat. There is one good thing about Coumadin, however. It has an antidote. In the event of a hemorrhage, Vitamin K can quickly reverse the blood thinning properties, and stop bleeding. When a Xarelto patient has a hemorrhage, vitamin K is ineffective and there is very little doctors can do to stop bleeding. It can be catastrophic. 
Xarelto is a relatively new drug. It was approved by the FDA on July 1, 2011, initially to prevent deep vein thrombosis in patients undergoing hip or knee replacement surgery. A few months later, in November 2011, the FDA approved it to reduce stroke risk in people with AFib (non-valvular atrial fibrillation). A year later, in November 2012, the FDA approved it to treat deep vein thrombosis and pulmonary embolism.
The first Xarelto-related death was reported to the FDA in November 2011. Since then, there have been dozens of adverse events, including death, resulting from Xarelto. While Xarelto manufacturers and its competitors are trying to find an antidote for bleeding, lawsuits continue to be filed by patients and their families, asserting that they were not made aware the serious bleeding issue with Xarelto could not be reversed.
In December 2014, U.S. Judicial Panel on Multidistrict Litigation announced consolidation and centralization of all nationwide Xarelto lawsuits filed in federal courts before U.S. District Judge Eldon E. Fallon in the Eastern District of Louisiana. This is the same judge who saw thousands of Avandia and Chinese drywall lawsuits, and a number of other complex liability claims.
As the MDL moves along, we will certainly be hearing more and more about Xarelto. No dates for bellwether trials have been set, but they will probably be towards the end of 2015 or in 2016. Stay tuned!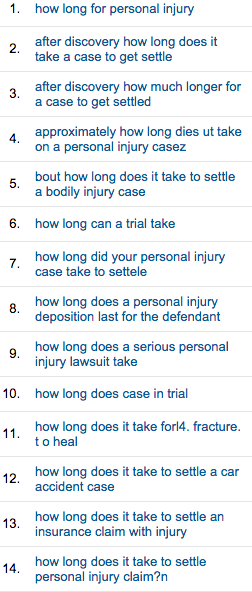 I have worked in legal marketing, specifically, personal injury legal marketing, for almost seven years now. I have written a lot of website content and articles about legal topics ranging from types of accidents and injuries to information on the personal injury litigation process. I've also spent a lot of time reviewing and reporting website traffic analytics. In internet marketing, we measure website traffic analytics for many reasons, but primarily to aid in meeting specific business objectives, such as generating leads or selling a product or service. One thing I pay close attention to is where website traffic comes from, primarily organic keywords.
The way we search for things has changed as the internet evolved. People want to research their own legal issues and educate themselves on their rights and options before deciding whether or not to hire an attorney. And one of the most popular queries for people considering hiring a personal injury lawyer is "how long does it take until I get my settlement?" This is an important consideration, especially if injuries are serious and you are unable to work, or are facing huge medical bills. People ask this question when interviewing lawyers, and when deciding to hire a lawyer.
The short answer to that question is "it depends." I've seen personal injury cases resolve in a few months, and I've seen other cases drag on for years. Typically, the cases that resolve the quickest are typically accident cases where liability is undisputed, injuries are significant, and there is plenty of insurance to cover the damages. If a case goes to trial, the time period can be much longer, as trial preparation can take months and months.
You should not settle quickly, if it means you are significantly sacrificing compensation you are entitled to. Once you accept a settlement, it is permanent, and you cannot pursue a claim for your injuries at any point in the future. Settlements are often worth the wait.
No matter what the source, you should not make any decisions about your case based solely on information you have researched on the internet. Your case may have aspects that make it worth significantly more, or you may have a very limited window to file a claim. As soon as possible after an accident, talk to a knowledgeable lawyer, one who is very experienced and has handled cases similar to yours with positive outcomes. Most personal injury attorneys offer free consultations.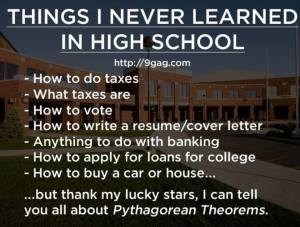 I saw a post on Facebook today about things I never learned in high school (see image). It's true, in high school we don't really learn what taxes are, how to file them, how to vote, how to write a resume, anything to do with banking, applying for a loan, or buying a car or house. Another thing that instantly came to mind, is the civil justice system. So many people don't understand civil law vs. criminal law, and statutes of limitations, and why they're so important. This should be taught in high school.
The wonderful law firm I work for, Estey Bomberger, specializes in institutional childhood sex abuse cases, civil cases where children are harmed by people in institutions (think schools, churches, dioceses, Boy Scouts, foster agencies, etc). Unfortunately, sexual abuse of children is pretty common. People who work in schools and churches have easy access to children that are taught and instructed to respect and obey them. As a parent to a young daughter, it is something I will be paying close attention to, and when it's appropriate in a few years, talking to her. Side note, here is a great article about how to talk with your children about sexual abuse.
I am very proud of the work that our attorneys do for child molestation victims – not just our clients but children in schools, churches and the foster system really are safer because of it, and I've seen firsthand the very grateful families that we have been able to help. Our work has brought real changes to private and public institutions, changes that make our children safer.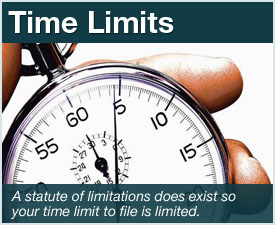 Along with moderating the comments on our blog and website, I have seen hundreds of inquiries come through to our firm from people who have suffered horrific abuse that has caused devastating heartbreak. Unfortunately, in many situations we are simply unable to help with a civil case because the statute of limitations has expired. I've seen inquiries from people who were abused by a teacher or priest in the 70's or 80's and just now want to pursue a lawsuit. It make me sad that we simply can't help them – no attorney can help them. It's just too late.
From working in the legal industry, I know what a statute of limitations is. But surprisingly, many people have no idea that if they suffer some kind of injustice, for which they would like to pursue damages (money), they need to do it within a certain period of time from the date of occurrence. This time period is set by statute, which is why it's called a statute of limitations Almost every state has a basic suspension of the statute of limitation for civil actions while the person is a minor – this is known as a "tolling". There are also extensions in some states for cases specifically involving sexual abuse of children. It gets even more complicated when the defendant is a government entity – most often, a school district.
Our state senator Jim Beall has been trying to change the law in California. He has pushed two civil damages bills (Senate bill SB 131 in 2013 and Senate Bill 924 this year). In September, our current governor vetoed Beall's childhood sex abuse lawsuit bill, just like he did the prior year. This year, he did increase the criminal statute of limitations, but vetoed legislation to give victims more time to seek civil damages against third parties. Brown said, ""There needs to be a compelling reason to lengthen the statute of limitations for civil claims against third parties. I do not see evidence of that here." You can read more about Brown's veto in the Sacramento Bee.
I personally feel there is plenty of compelling evidence / reasons to lengthen the statute of limitations and that anyone who puts profits over the safety of our children needs to be held accountable, no matter how long it has been. Unfortunately, Jim Brown has been reelected for another term. Hopefully, in the future, this will be revisited.