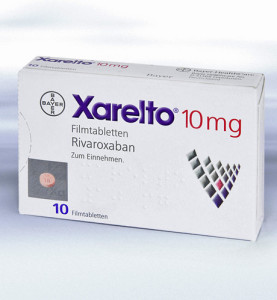 Being in legal marketing I keep close tabs on dangerous drugs. I've been closely following Xarelto problems since the FDA first issued a warning letter to Johnson & Johnson about their aggressive marketing and advertising campaign in June 2013.
If you haven't heard of Xarelto, it is an anticoagulant – a class of drugs that prevent blood clots. Typically, anticoagulants are prescribed to people who are at high risk of stroke or heart attack, or who have recently undergone surgery. The major side effect of Xarelto and other anti-clotting drugs is bleeding. With the growing population of baby boomers, more and more people are going to need blood thinners to prevent blood clots and strokes.
For many decades, Coumadin (warfarin) was the blood thinner of choice. It is an effective drug, however, patients are required to adhere to strict monitoring and diet limitations. However, Xarelto, and cousin drugs Pradaxa and Eliquis, do not need strict monitoring, and there is no need to watch what you eat. There is one good thing about Coumadin, however. It has an antidote. In the event of a hemorrhage, Vitamin K can quickly reverse the blood thinning properties, and stop bleeding. When a Xarelto patient has a hemorrhage, vitamin K is ineffective and there is very little doctors can do to stop bleeding. It can be catastrophic. 
Xarelto is a relatively new drug. It was approved by the FDA on July 1, 2011, initially to prevent deep vein thrombosis in patients undergoing hip or knee replacement surgery. A few months later, in November 2011, the FDA approved it to reduce stroke risk in people with AFib (non-valvular atrial fibrillation). A year later, in November 2012, the FDA approved it to treat deep vein thrombosis and pulmonary embolism.
The first Xarelto-related death was reported to the FDA in November 2011. Since then, there have been dozens of adverse events, including death, resulting from Xarelto. While Xarelto manufacturers and its competitors are trying to find an antidote for bleeding, lawsuits continue to be filed by patients and their families, asserting that they were not made aware the serious bleeding issue with Xarelto could not be reversed.
In December 2014, U.S. Judicial Panel on Multidistrict Litigation announced consolidation and centralization of all nationwide Xarelto lawsuits filed in federal courts before U.S. District Judge Eldon E. Fallon in the Eastern District of Louisiana. This is the same judge who saw thousands of Avandia and Chinese drywall lawsuits, and a number of other complex liability claims.
As the MDL moves along, we will certainly be hearing more and more about Xarelto. No dates for bellwether trials have been set, but they will probably be towards the end of 2015 or in 2016. Stay tuned!