Archive of the categories:
Dangerous Drugs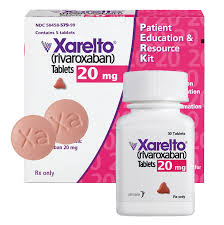 We've been watching Xarelto lawsuits work their way through the legal system since the FDA first issued that warning letter to Johnson & Johnson back in June 2013. It was predicted that lawsuits would continue to be filed, and that's just what's happened. One of the legal blogs I follow, Lawyers and Settlements, reported this week that the MDL has more than 2,200 consolidated cases. That's a lot more than 11 months ago, when about two dozen lawsuits were first consolidated back in December 2014.
Xarelto, generically known as rivaroxaban, was first approved by the FDA as an anticoagulant or "blood thinner" back in July 2011. In November 2011, the FDA approved it to reduce stroke risk in people with atrial fibrillation. In November 2012, the FDA approved Xarelto for deep vein thrombosis.
Xarelto is different than Coumadin / warfarin, the blood thinner that's been on the market for decades. Unlike  Coumadin, patients taking Xarelto do not need to undergo routine blood tests. However, there is no antidote for Xarelto. With Coumadin, if a bleeding event occurs, a patient can be treated with Vitamin K, and usually the bleeding can be stopped. In a patient treated with Xarelto, a bleeding event is potentially life-threatening.  Bayer, the manufacturer of Xarelto, is working on an antidote. The first Xarelto-related death was reported to the FDA in November 2011.
The thousands of lawsuits that have been filed allege that patients were not warned that there was no antidote to Xarelto, One of the more recent lawsuitd was filed by Ashlie Fluitt, whose grandmother, Hattie Deville Goodwin, was prescribed Xarelto in September 2014 for her deep vein thrombosis. Two months after she began taking Xarelto, Deville-Goodwin experienced an intracranial bleed, which was irreversible and fatal. She passed away on November 14, 2014.
The first bellwether Xarelto cases will likely go to trial early in 2017. From the thousands of cases now in the MDL – and those projected to have come forward by the start of the New Year – 40 cases will be shortlisted. Plaintiffs and defendants will choose 10 cases each, with another 20 cases chosen at random. If you've experienced a bleeding event while taking this drug, you should contact a Xarelto lawyer – as soon as possible.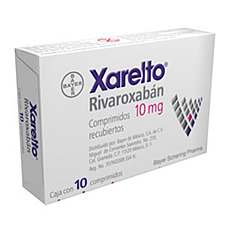 Back in January, I blogged about the status of Xarelto lawsuits, a legal matter I've been closely following since the FDA first issued a warning letter to Johnson & Johnson back in June 2013. In that post, I mentioned that we would likely be seeing news of more lawsuits being filed as the MDL moves along. On March 20th, another case was filed in CA, on behalf of 12 Xarelto patients who allegedly suffered either gastrointestinal or rectal bleeding as a result. Some of them were hospitalized, including one man who had a stroke.
Xarelto, of course, is an anticoagulant, a drug better known as a "blood thinner". Xarelto has only been on the market since July 2011, when it was first approved by the FDA.
The drug was initially approved to prevent blood clots in patients undergoing hip replacement or knee replacement surgery. The FDA later approved it in November 2011 to reduce stroke risk in people with atrial fibrillation. In November 2012, the FDA approved Xarelto to treat deep vein thrombosis and pulmonary embolism.
For many decades and until a few years ago, the "gold standard" blood thinner was Coumadin (aka warfarin). The downside of warfarin is that patients have to do rigorous and ongoing blood testing to see how long it takes your blood to clot and to make sure you are taking the right dose. Patients taking Xarelto do not need to undergo routine blood tests. The most recent lawsuit filed in CA federal court alleges that Johnson & Johnson was misguided when alleging that testing was unnecessary.
Bleeding events can occur with both Coumadin and Xarelto. When patients are taking Coumadin, doctors can give patients Vitamin K, which swiftly counteracts the thinning properties and essentially stops the bleeding. There is no antidote for Xarelto patients. Bleeding in a Xarelto patient can be life-threatening and fatal.
Back in December, about two dozen lawsuits were consolidated into Multidistrict Litigation in federal court in Louisiana. In Jaunary, a new mass tort was created in the Philadelphia County Court of Common Pleas. The California Xarelto lawsuit suit is Walker et al v. Janssen Research & Development LLC et al, Case No. 2:15-vc-01971, in the US District Court for the Central District of California.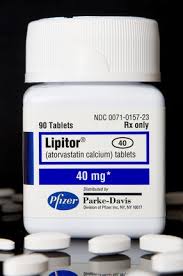 Pretrial proceedings are underway for Lipitor lawsuits. In case you're not familiar, Lipitor is a statin drug, once the best selling drug in the world. Until it's patent expired in 2011, it was responsible for one-fifth of Pfizer's revenue. It works by blocking the fatty LDL cholesterol in the blood stream, and protecting from heart disease and stroke.
The problem with the drug is it causes diabetes, particularly in women. A 2012 study found that women who took Lipitor (and other similar statin drugs) were 50% more likely to develop diabetes compared to women who didn't take any statins. After the study, the FDA ordered Pfizer to add warning labels to the box. But, the lawsuits claim that Pfizer knew about the link to diabetes long before the FDA ever made them slap a label on the drugs. And that's what the Lipitor diabetes lawsuits are all about.
The cases have been consolidated for pretrial proceeds as an MDL (multi-district litigation), which has been centralized before U.S. District Judge Richard Gergel in the District of South Carolina. Consolidating these cases makes it easier on everyone, it avoids pretrial rulings that may conflict, and makes it easier for all of the parties involved, not just plaintiffs and defendants, but their experts and the courts.
In September 2014, Judge Gergel ndicated that the first bellwether trial will begin in October 2015. At that point, there were more than 1,250 lawsuits pending against Pfizer, all alleging that the drug caused diabetes. According to the case list for a January 22nd status conference, Lipitor lawsuit complaints rose from 1,478 as of December 15, to 1,604 as of January 15.
A "bellwether" trial will go forward in October 2015. Judge Gergel will select this case from a current pool of 12 "initial discovery" cases reduced to a group of six, with each side identifying three cases that will be eligible for the first trial. The judge would then randomly select one of the remaining gasses to go forward as the first trial. The outcome of bellwether trials are not binding on other lawsuits, but they are always closely monitored by lawyers involved in the mass tort litigation, and they may influence future settlement offers and negotiations.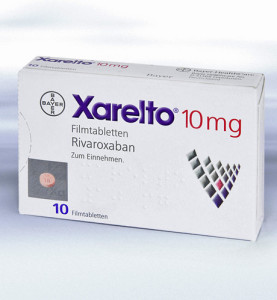 Being in legal marketing I keep close tabs on dangerous drugs. I've been closely following Xarelto problems since the FDA first issued a warning letter to Johnson & Johnson about their aggressive marketing and advertising campaign in June 2013.
If you haven't heard of Xarelto, it is an anticoagulant – a class of drugs that prevent blood clots. Typically, anticoagulants are prescribed to people who are at high risk of stroke or heart attack, or who have recently undergone surgery. The major side effect of Xarelto and other anti-clotting drugs is bleeding. With the growing population of baby boomers, more and more people are going to need blood thinners to prevent blood clots and strokes.
For many decades, Coumadin (warfarin) was the blood thinner of choice. It is an effective drug, however, patients are required to adhere to strict monitoring and diet limitations. However, Xarelto, and cousin drugs Pradaxa and Eliquis, do not need strict monitoring, and there is no need to watch what you eat. There is one good thing about Coumadin, however. It has an antidote. In the event of a hemorrhage, Vitamin K can quickly reverse the blood thinning properties, and stop bleeding. When a Xarelto patient has a hemorrhage, vitamin K is ineffective and there is very little doctors can do to stop bleeding. It can be catastrophic. 
Xarelto is a relatively new drug. It was approved by the FDA on July 1, 2011, initially to prevent deep vein thrombosis in patients undergoing hip or knee replacement surgery. A few months later, in November 2011, the FDA approved it to reduce stroke risk in people with AFib (non-valvular atrial fibrillation). A year later, in November 2012, the FDA approved it to treat deep vein thrombosis and pulmonary embolism.
The first Xarelto-related death was reported to the FDA in November 2011. Since then, there have been dozens of adverse events, including death, resulting from Xarelto. While Xarelto manufacturers and its competitors are trying to find an antidote for bleeding, lawsuits continue to be filed by patients and their families, asserting that they were not made aware the serious bleeding issue with Xarelto could not be reversed.
In December 2014, U.S. Judicial Panel on Multidistrict Litigation announced consolidation and centralization of all nationwide Xarelto lawsuits filed in federal courts before U.S. District Judge Eldon E. Fallon in the Eastern District of Louisiana. This is the same judge who saw thousands of Avandia and Chinese drywall lawsuits, and a number of other complex liability claims.
As the MDL moves along, we will certainly be hearing more and more about Xarelto. No dates for bellwether trials have been set, but they will probably be towards the end of 2015 or in 2016. Stay tuned!