Archive of the categories:
Recipes
I consistently make pancakes for Ava in the mornings, at least several times a week. It doesn't take long to make them, but I love those 10-15 minutes that I take to make her a healthy and yummy breakfast. I put her in her high chair, turn on the stovetop to medium heat, and get out everything I need. Usually I listen to music on my Sonos, or watch the Today Show, and have either coffee from my Keurig or an energy drink.
I am a loyal fan of Stonewall Kitchen Farmhouse pancake mix. I first discovered it long before Ava in 2012, when I took a crepes class at Sur La Table in Carlsbad. One of the students asked the instructor if she recommended a particular pancake recipe, and I remember the instructor immediately saying she recommended Stonewall Kitchen, that it was "better than scratch." I remember her also emphasizing the importance of using real butter and whole milk (or buttermilk). No nonfat milk or margarine. Intrigued and curious, I bought the mix that day. She also recommended a slotted fish spatula, which I also bought and absolutely love. I use it all the time, not just for pancakes, but for everything.
In my quest for pancake perfection I've tried a lot of a lot of pancake mixes, from fancy stuff like Archer Farms Red Velvet Pancake Mix to Aunt Jemima. and one thing I really like about the Stonewall Kitchen is that it uses actual ingredients, like eggs, milk, and butter. If you get one of those mixes that you "just add water" it tastes like you just added water, in my opinion. By now I have the Stonewall Kitchen recipe memorized. I use one cup of mix, ¾ cup milk, one tablespoon melted butter, and one egg. I whip it up with a fork, and pour it on my griddle. Once bubbles start to form, I flip them over with my fish spatula and they come out perfect, pretty much every time. I love them, Ava loves them, and if there are extra, the dogs love them too.
To make things even easier, I use subscribe and save on Amazon so my products are delivered monthly, with free shipping. I don't even have to think about it, they just show up. Do you have a favorite pancake recipe? I'd love to hear about it if you do!
Disclaimer: This blog has the word "sippy cup" in the title. Jungle Juice is an extremely potent ADULT  beverage and should never be served to children or made available to children. Consumers of the beverage should also not drink and drive 🙂 
Over the weekend I went to a going away party, and I had volunteered to bring drinks. At the suggestion of the host several weeks earlier, I agreed to bring "Jungle Juice". I honestly didn't know what Jungle Juice was, so I started with Google. The images of Jungle Juice were somewhat frightening, as I quickly discovered Jungle Juice is often made in clear Rubbermade storage containers, Gatorade insulated coolers, and (gasp) trash cans.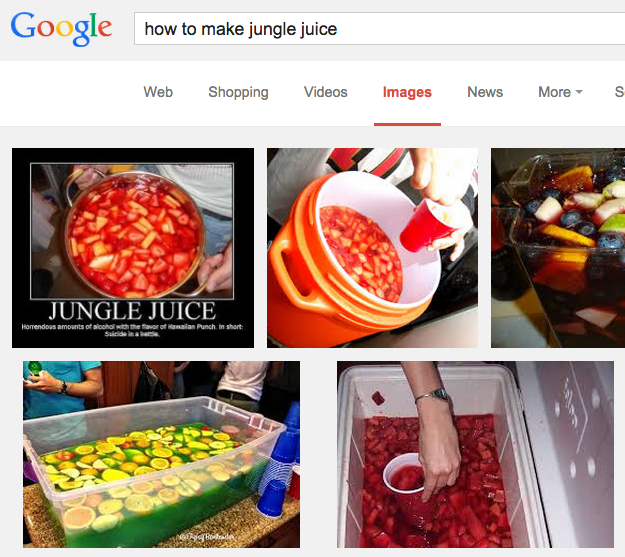 Surely I could do better, and make something that looked pretty, tasted great, and worked well (got all the guests happily sauced). There were dozens and dozens of recipes, but as I continued my research over several days, both online and asking veteran drinkers that I knew, I discovered a theme: fruit punch and everclear.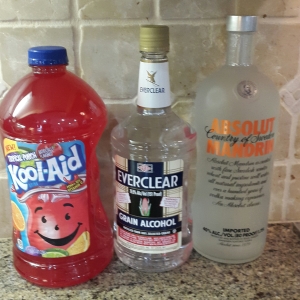 Last week Ava and I went on a shopping trip to Target and BevMo to formulate a plan for Jungle Juice. I got an awesome Anchor Hocking Beverage Dispenser with a chalkboard label. That looked pretty worked out great. It says it is for two gallons but it holds more. I even tested it the day before by filling it up with water and making sure it didn't leak. The only thing I didn't like is when you filled it with cold liquid the chalk writing sweated off, making it hard to read. But other than that, it worked great.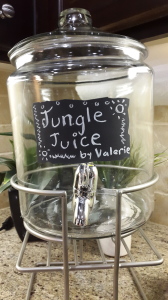 The main reason I am writing this blog about Jungle Juice is I wanted to remember the recipe. I used a gallon of Kool Aid, a gallon of Hawaiian Punch, Absolut Orange Vodka, and a $45 bottle of 190 proof Everclear (Grain Alcohol). I didn't put any ice in, instead I used a bag of Wawona "Festival Blend" frozen fruit from Costco, which included Mango, Papaya, Strawberries and Pineapple. I also added a bag of organic frozen strawberries.
I definitely will use this recipe in the future. It would be great for a birthday or holiday party. I loved that it was easy and no fuss, and very simple to quickly add to as the party went on. The guests also could scoop out the fruit and eat that too. If you wanted, you could add other types of juice, or even sprite or champagne to make it bubbly too!