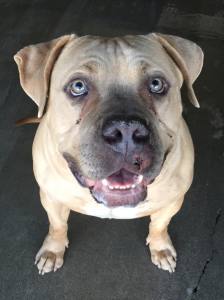 I've rescued a lot of amazing and wonderful dogs since I started my rescue journey in 2011, but the pit bull we rescued yesterday is extra-special. Kind of like prisoners, dogs at the shelter are assigned impound numbers and Hank's was A475552. We know nothing about his history, other than he came into the shelter as an unneutered, not microchipped dog. He has a chipped canine tooth and is about 3 years old.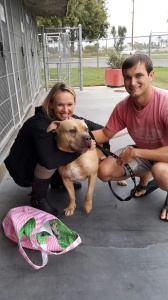 We first met Hank last Saturday when we were at the shelter to rescue some other pups. It was obvious immediately that he was just a big, goofy, huggie bear wiggle butt, who hasn't missed a meal, ever. Thanks to the shelter's foster policy, because of his injury, we were able to rescue him from the shelter a day early and we got him out just before closing last night.
We stopped at Carls Jr. in Perris on the drive back to Carlsbad, and it seemed obvious that Hank knew exactly what fast food is. He is at our vet Mohnacky Animal Hospital for neuter surgery today. In mid-December, he will be going to live permanently in Virginia. More pictures are in Hank's photo album on Facebook.